Tucked away in the central heartland of India, Chhattisgarh State is rich in forest, water and land resources, but the ethnic minorities who populate the area are among the poorest in India. As farmers cultivating mainly rain-fed paddy, they are highly vulnerable to the impacts of climate change such as rain pattern variability. CARE has been working in this region since 2011 with the Where the Rain Falls project, to support local communities identify innovative adaptation strategies to climate changes.
Sudhakar Balabantaray, a 40-year-old native from the neighboring State of Odisha, started working with CARE back in 2000, at a time when a super-cyclone had devastated Odisha, killing over 10,000 people and leaving an estimated 1.5 million homeless. He then worked on several poverty alleviation projects, both for the Indian government and for international organizations. For the last 6 months, Sudhakar has been back with CARE in Chhattisgarh to run the Where the Rain Falls community meetings and trainings across 20 villages of Bagicha block of Jashpur district.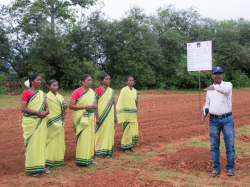 5.30 – I wake up early, but it is already light outside. I take a bath and put on clean cloth to perform my morning meditation and worshipping, the puja, whereby I offer light, water, incense and food in honor to our Hindu deities. During puja, I experience tranquility and peace; this is my own way of getting my mind and body ready for a busy day. After that, I give a morning call to my wife and two children, who live in my native state, Odisha, a long 15 hour train and Bus journey from here. Due to the distance, I can only visit them once per month, so hearing their loving voices in the morning is a chance I would not miss.
6.30 – I start my working day by reviewing the workplan which we have elaborated jointly with the team, and confirming meetings for the day through phone calls. Because travel times can be so long, I want to make sure that my appointments will not be cancelled. I also have to coordinate with the staff members of the local organization which helps us run the community meetings. Every morning, I send them a text message with the list of their meetings for the day. , I like to spend time reading material shared by our technical experts on matters related to my work: agro-ecology techniques, community mobilization, etc. It gives me new ideas on how to perform my job.
8.30 – I cook myself a simple, but fulfilling vegetarian meal, usually made of rice and dal (a protein-packed dish of red lentils) and some seasonal vegetables. The day will be long, and I know that I will probably not be able to take a proper meal before the night.
9.30 – I get on my small motor bike, equipped with an indispensable raincoat in this time of rainy season. I have a 40 km journey ahead of me to Jabla village, where I plan to run a meeting of the Village Development Committee (VDC), a community collective set up with the help of CARE, whereby villagers get together to discuss their problems, needs, and try to identify sustainable solutions.
By getting together, community members can share their respective knowledge and put their forces together. The oldest ones have the historic knowledge of past climate trends and events. Those who are more educated can take the lead in drafting memorandum on behalf of the community to receive grants from the local government. Some have a little more resources, giving them the ability to invest in seeds to try out new paddy varieties, and share successes with others. My role in this process is simply to organize and facilitate the meetings, and provide technical information or knowledge which can help them take better informed decisions. This is what we call community-based adaptation: giving people the ability to help themselves.
11.00 – Finally, I reach Jabla village! I had to drive very slowly, because the unpaved roads got all muddy and slippery due to the overnight rain. I greet the village head, and meet with Sureshram Baiga, our cluster coordinator from a local association, who will help me run the meeting. Sureshram grew up in one of the village's hamlets, so he knows everyone here.
It is a good time to gather the community, because farmers usually take a break from working in the field since sunrise. 11 villagers, including 6 women, join the meeting today. Together, we review the community climate action plan which we have elaborated last month, and prioritize the selected activities as per communities requirement: digging a community pond and starting a fishery business, organizing a knowledge sharing session about organic fertilizer preparation and use, realizing a village-level water audit to identify where we could realize savings, setting-up a community seed bank, etc.
"In our village, while women work in the fields as much as men, they are usually left out of community-level decisions and projects. Things have changed for me since I joined the village development committee, as I feel that I can finally have a say in my community's destiny, and ultimately my own."

Manju Kujur, VDC member
13.00 – The meeting is over, so I get onto my motor bike while the villagers are going back to the field. No time for lunch today, as I have an appointment with the Agriculture Department to discuss collaboration opportunities, and how the Department can better assist the community farmers. I stop on my way to get a masala chai (sweet and spiced milk tea, a typical Indian specialty) and some spicy snacks.
14.00 – Mr. Baisakho Tirkey from the Agricultural Department greets me with a smile and a firm handshake. I have known him for a couple of months now, and he is very supportive of our activities – which is not always the case! Together, we plan to organize a seed fair, so that farmers can have access to a range of diverse, locally-adapted crops and varieties, which are more resistant to extreme climate events. We design a work plan which will be presented to the communities for their input.
17.00 – I have reached home. After a quick dinner, it is time to tidy up my notes from the day, and give a quick call to the project manager to share any major update.
21.00 – My body is tired after this long day, but as I lay down in bed, my mind can't stop thinking about all the people I have met today, and how I could help them better. I am truly amazed each day by their incredible resilience and their continued cheerfulness in times of hardship. This is why I love my job so much.