Bangladesh is one of the most climate vulnerable countries in the world. Climate change is further increasing the frequency and severity of existing weather patterns, like floods, tropical cyclones, storm surges and droughts, thus intensifying the cycle of poverty and food insecurity.
CARE has been working in Bangladesh since 1949, helping poor people and communities become more resilient to various types of shocks, from climate related disasters to food insecurity, diseases, and unemployment. CARE Bangladesh focuses on empowering women to lift their families and communities out of poverty.
Meet three women that CARE is helping to become more resilient in the face climate disruptions in one of the poorest and most food insecure regions of Bangladesh.
Flooded lives: facing the impacts of climate change in Bangladesh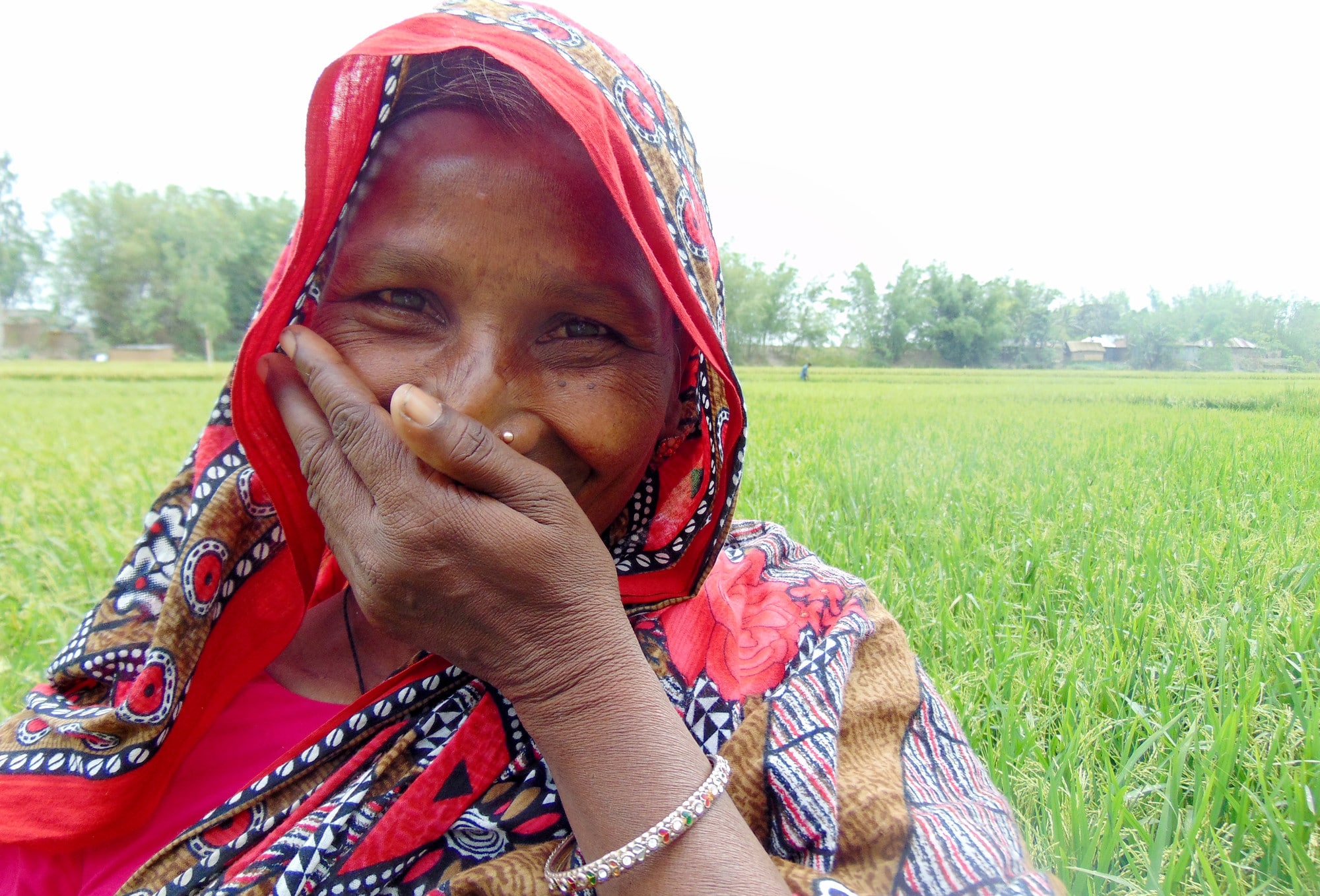 Asia, 45, is a mother of four who lives in Chhinnai, northwest Bangladesh. She lost everything in a flash flood six months ago. "My house was flooded and all of our rice was destroyed," Asia says and adds, "There are more floods now and we never know when they will come."
But Asia was determined not to give up. She is now the leader of a smallholder farmers' group set up by CARE's Pathways project to help female farmers to become more resilient to the changing climate.
The women in the group learn about flood tolerant rice seed varieties, as well as ways to protect crops from floods. One member is responsible for meeting with local authorities to find out about available government services, and to inform others on latest weather forecasts, such as upcoming floods and storms.
CARE's experience in Bangladesh shows that women play an important role in the agricultural sector, but they are often not acknowledged for this. Pathways aims to improve women's equal participation in sustainable agriculture.
Fighting climate change with potatoes and pumpkins
Rabeya, 31, is a mother of two from a small village called Malvanga in northwest Bangladesh. She grows potatoes and pumpkins. When the yield is good, she sells them in the local market.
"I'm trying to raise money for my daughter," Rabeya says. Rabeya's daughter Dilruba is 13 and soon finishing grade 7 in her local school. "My daughter is really bright, she wants to become a doctor. I don't want her to get married yet. I want her to finish school and have a better life," Rabeya says.
Life in one of the poorest and most food insecure regions of Bangladesh is not easy, and climate change is making the situation even worse for millions of people like Rabeya. Regular floods, tropical cyclones and droughts that intensify the vicious cycle of hunger and poverty are becoming ever more frequent and intense as temperatures keep rising.
CARE is working with vulnerable women to help them become more resilient to the escalating climate disasters. Rabeya is now part of a women's group set up by CARE, in which women from her area learn ways to prepare for expected and unexpected climate shocks. This is also where Rabeya got the idea to switch to growing potatoes and pumpkins, which she can cultivate outside the flooding season.
The 'Enhancing inclusive disaster resilience in Bangladesh' project strengthens community based disaster preparedness by helping women to become more resilient to weather related risks, including climate change. The project is part of a wider DIPECHO VIII programme, where CARE worked in partnership with ten other civil society groups (ActionAid, Oxfam GB, Islamic Relief Worldwide, Concern Universal, Plan International, Concern Worldwide, Solidarity International, Handicap International and HelpAge International).
"I sold my symbol of love to survive"
Imagine you had to sell your wedding ring to put food on the table. This is what Koriful had to do, but she didn't sell a ring, she sold a golden nose pin that symbolises marriage in rural Bangladesh.
Koriful, 40, is a mother of three from a village in Nilphamary, Northwest Bangladesh. Having married in her early teens, Koriful's life has revolved around caring for her family. Hard work characterizes her life since childhood.
Five years ago life was especially hard, when Koriful's husband Anis lost his job. The family of five was entirely dependent on his income, as Koriful did not have any income of her own.
"We had to sell everything. There was not enough food. We had to borrow money for food, but the moneylenders wanted us to pay back five times the amount they had given us," Koriful says. "I had no choice. I had to sell the nose pin my husband gave me when we got married," Koriful recalls still visibly hurting from the memory.
In rural Bangladesh, the symbolic value of the nose pin is even higher than its monetary value, as it is often a gift from the groom to the bride. It symbolizes marital status and losing the pin, therefore, means being divorced or widowed.
But then Koriful joined a women's self help group set up by CARE. With the help of a small loan she was able to set up a business with her husband. They are now selling dry fish in the local market. The business grew steadily and eventually Koriful was able to buy back her nose pin.
Koriful's story is similar to the lives of many poor women in Bangladesh. CARE's 'Social and Economic Transformation of the Ultra Poor (SETU)' project helps extremely poor and marginalised people and households in northwest Bangladesh to become economically self-sufficient in the long term. With a strong focus on women, the project is enabling extremely poor women to gain the confidence to play an important role in household decision-making processes.
Building resilience, changing lives
With great determination and the help of CARE, women in one of the poorest and most vulnerable region of Bangladesh have taken charge of building resilience of their communities. CARE Bangladesh's experience shows that when women and girls are equipped with the resources they need, they have the power to change the future of their families and entire communities.
Learn more about CARE Bangladesh's work