Twenty-seven year-old Foibe Valetti left the Democratic Republic of Congo (DRC) in 2017 due to the ravaging war.
Devastated by the death of her elder brother and his wife, she was suddenly burdened with the responsibility of taking care of five children, including her brother's son.
They packed and resettled in Kavule village, Kyangwali Refugee settlement, where Foibe became fully dependent on food distributed by aid agencies and firewood from the forest reserves.
Unable to afford charcoal, Foibe, like other women, would walk five to ten kilometers to fetch firewood from Bugoma forest once a week, as allocated by authorities. She says the amount collected was never enough for an entire week, forcing her to buy charcoal, which was expensive. But then a friend told her about the Community Solar Kitchens.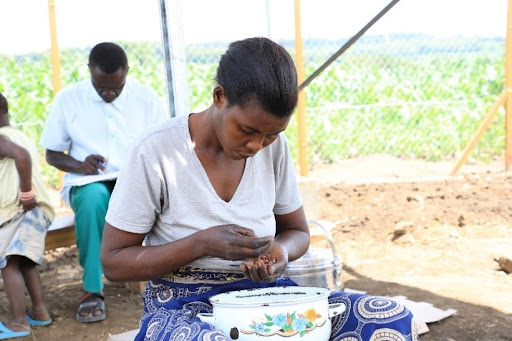 "She told me CARE had constructed stoves that use the sun and not charcoal meant for the refugees," says Foibe, who went to take a look and started cooking from there.
"I am happy that I do not have to spend so much on charcoal anymore, and when I am there I get time to interact with other women, make new friends, learn how to make different dishes and rest as we wait for food to get ready," she says, adding that she only wishes the cooking pots could be larger because she has a big family and has to cook lunch and supper both at once.
Similarly, 40-year-old Esperance Buswaze managed to flee and resettle in Kavule Village, Kyangwali refugee settlement with her husband and three children.
Tucking depression aside, Esperance fully threw herself into household duties. Her biggest responsibility was to collect firewood once a week from the forest, and then a Community Based Facilitator volunteering with CARE told Esperance about the solar kitchens.
"I have seen solar before but when I went to visit the kitchen, I was surprised that even cooking can be done with the sun," she says. "We were taught how to use the stoves by CARE's facilitators and I found it very easy and clean to use compared to firewood and charcoal, which is dirty and produces so much smoke that hurts the eyes."
Esperance says she finds the stoves fast and tidy, and she can cook enough food at once to take her family through the day, which has helped her save some firewood for days when she doesn't use the kitchen.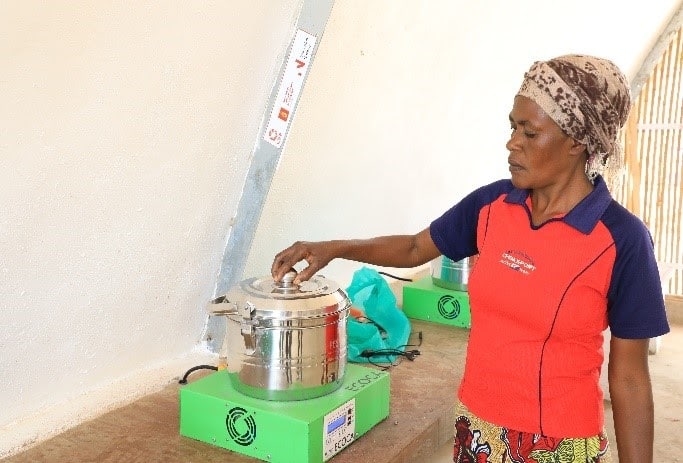 Reducing gender-based violence
CARE International in Uganda, in partnership with Innovation Norway and DANIDA, recently launched three community solar kitchens expected to serve about 50 households per village in Kyangwali refugee settlement in Kikuube District.
The launch of the community kitchens is a ray of hope for hundreds of vulnerable refugee women who have been trekking for over five kilometers to the surrounding forests in Kyangwali in pursuit of firewood.
The kitchens installed at the different women's safe spaces will reduce deforestation but also female exposure to gender-based violence experienced during collection of firewood.
"Women are only allowed one day a week by the authorities to collect firewood from the forest. Since this is usually not enough to last an entire week, they are forced to go along with their young children to carry as much firewood as they can," says Irumba Umirambe, Chairman block 112, Kilima Village Kyangwali.
"During this process, some get hurt; sometimes they are raped, get wet on rainy days and are beaten on other days by rangers for trying to sneak in during non-designated days."
I used to use charcoal worth UGX 35,000 per month, but ever since I started using this kitchen, I have only used UGX 2000

Kasemire Therese
The stoves have also significantly reduced the charcoal expenses for women.
Kasemire Therese, a 35-year-old mother of seven is a regular user of the solar kitchen in Kavule trading center.
"I have used this kitchen 15 times since it was opened up for us in May 2021, and it has made me and other women very happy," explains Therese.
"It has reduced the burden of buying charcoal and moving to the forest which is so far to get firewood. I used to use charcoal worth UGX 35,000 per month, but ever since I started using this kitchen, I have only used UGX 2000."
Harmonious and safe
The community solar kitchens are constructed in cemented dome shapes, painted with CARE's orange theme color with two points of entrance beautifully sealed off with wire mesh and bamboo for good aeration.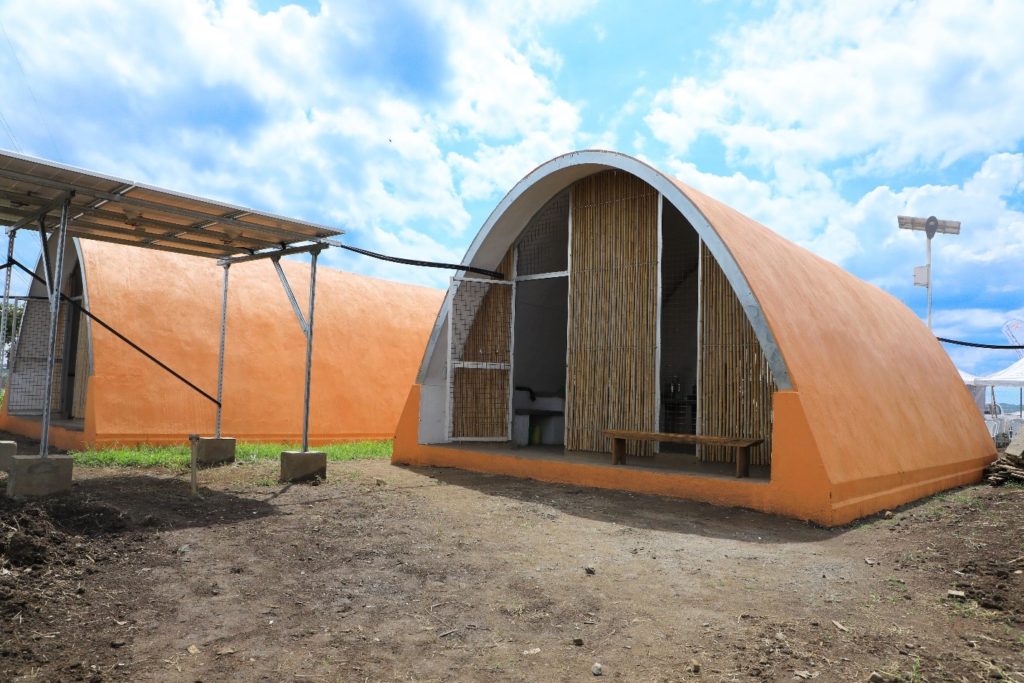 Each Community Solar Kitchen has 10 stoves, enough for about 50 households per village in the settlement, designed to cook all sorts of food for between one to four hours depending on the food being cooked: beans, rice, cassava, maize, sombe (a Congolese delicacy consisting of pounded cassava leaves mixed with fish), fried eggs. The stoves can also charge phones.
CARE has established management community members picked from the community according to their responsibilities, as well as security personnel to ensure harmonious, safe co-existence and coordination among the women as they prepare their meals until departure.
They ensure that the kitchens are kept clean and organized, the women have registered and the cooking pots are washed and accounted for by the cooks at the end of the day.
In Maratatu Health Centre III the kitchen caters for about 40 residential health workers, which has mostly been used by male staff since it opened in April 2021.
"I guess our female colleagues prefer cooking indoors at the quarters instead of this kitchen," says Jonathan Okware, a Clinical Officer.
"Since we are few, we are free to carry the cooking pots to our residential premises and return them because it is upon every individual's morals to keep them safe. We also do not have any specific schedules. People can come in when they are free, register and start to cook,"
According to Martin Bwemage, Nutritionist, at Maratatu HCIII, the health workers have positively optimized their time during cooking hours and named it "social hour" as they get to interact after duty.
"We used to use charcoal for cooking which in the long run has impact on the environment and economic status. This facility has improved our human capital during cooking interactions and also improved the efficiency of our work because food gets ready fast."
Aiming to create the world's most sustainable refugee settlement by implementing solar based cooking as a substitute for wood, recycling plastics and teaching practices for land optimization to support sustainable and nutritious food production, CAMP+ was initially implemented in 2019 following Community Development Resource Network's (CDRN) identification of the immense need for energy in the settlement and as an innovative approach to tackle climate change in response to a challenge put out by CARE in Denmark to its partners.
With support from partners CDRN, Pesitho, Lendanger, Mottleson Consultants and LLa-Bio economy, CARE Denmark hopes to expand the community kitchens to institutions and self-sustaining businesses which can generate income to meet staff and maintenance costs through business services such as phone charging, refrigeration and many others.