Like many rural women worldwide, the women residents of villages in Nusa Tenggara Timor (NTT), Indonesia play an important role in achieving food and water security for their families, as well as for their livestock and crops. These responsibilities put women in very difficult situations. They must struggle and simultaneously deal with the severe impacts of climate change, frequent food shortage and unreliable water sources. To cope with the food shortage, women and girls often become the first to reduce how much they eat, sacrificing their diets for other family members. And to ensure sufficient water stock, woman and girls must walk further, daily, limiting available time to accomplish other tasks like earning money, learning new skills, and leisure.
Women must be central to managing climate change and creating a sustainable future. Women often have strong traditional and environmental knowledge gleaned from years of helping their relatives, collecting and managing resources, and raising their families. When they are in control of resources, women are resilient and more likely than men to use their knowledge and skills for family health and economic stability. Timorese (NTT) women have strong intent and purpose to better deal with climate change challenges. With little to no support system, little money, and lack of academic knowledge, women are still able to come up with simple but meaningful solutions: this is showcased by the below cases of Yunyulita Lakilaf-Tameon, Maria Regina Koinmanas and Marteda Bani Mambait.
Yunyulita Lakilaf-Tameon (Oekiu Village, TTS District)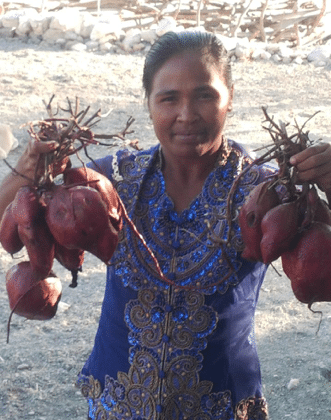 Women farmers in NTT, such as Yun, are among those most affected by climate change. Severe droughts and decreasing rainfall reduce the crop yield of two basic commodities – corn and groundnut – significantly. Thus, Yun and her family were forced to struggle with the decreased supply of such essential food sources.
Concerned with the possibility of having undernourished children, Yun gained the courage to start planting purple sweet potatoes. At first, many in her village questioned her initiative, but she carried on despite the skepticism. From five seeds of purple sweet potato, she now has 1,500 sweet potato plants. Yan is no longer worried about the impacts of the drought, as she has achieved food security not only for her family, but for her entire village.
"Now we can still eat vegetables in the dry season. We no longer have to worry about the shortage of food, especially vegetables. The best thing is that we can sell the excess purple sweet potato production to help us meet the needs of daily life and buy our kids' school equipment," said Yan.
Maria Regina Koinmanas (Oelbitino Village, Kupang District)
For the past three years, Regina and her community have faced the failure of crop production due to water shortage. This difficult situation has led to decreased income and, subsequently, increased poverty. Regina could not feed her family or fulfill her basic needs.
Regina could not stand this situation. She went against the norm amongst Timorese women and expressed her concern in the district development planning discussion – a male-dominated activity. She shared with all attendees that water shortage is a serious threat to the second growing season (drought season, usually during May to September). Thus, she asked the government to solve this problem by building several artificial lakes, locally called "embung," to store water reserves, such as groundwater and unused rainwater.
Regina's courage touched the district government – her aspirations and concerns were promptly addressed by a group of related stakeholders. A list of programs and work plans are now being developed to build more embungs to deal with the water shortage.
Marteda Bani Mambait (Nunsaen village, Kupang)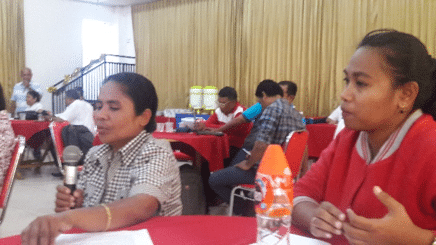 Recurring droughts brought difficulties to Marteda's family and village. Such difficulties from droughts included the absence of vegetables for consumption by families in the village and a shortage of drinking water for the crops and livestock. These desolate conditions drove Marteda to advocate for change.
Using the knowledge that she gained from trainings by CARE Indonesia, Marteda created a "water trap" in her back garden. A water trap is a hole in the ground that is used to collect rainwater. Marteda now uses the collected rainwater to irrigate vegetables and hydrate livestock.
From one water trap, Marteda can feed her family without being threatened by the season. In fact, her harvest is so abundant that she sells additional vegetables at the local market. From her sales, Marteda is able to send her children to school, and one of them has successfully attended university.
From her success, she has become an inspiration. Marteda is often invited to various public forums to share her story of persistence and the benefits of the water trap. She has motivated most of the farmer group members to work together to create water traps: Now, there are 12 traps in their area.